By Nikki Wheeler
Mission Partner in Papua New Guinea
Hello to our wonderful NZ Whanau! This is an update to let you know how things have been progressing in Kapuna, Papua New Guinea in the last few months.
Scott's project work has changed a lot since finishing the hospital upgrade and he is now starting to get into other projects. This will involve visiting various villages, assessing how they build their toileting systems and seeing what works and what doesn't.
Here is a photo of Joe in a neighbouring village digging out his old toilet (long drop type system) to make space for it to be used again. There is a 'stand down' period where the toilet is not used for a while before this process happens. It's still not a pleasant job though as you can imagine!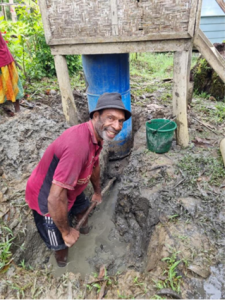 Those who know Scott know that he is a bit of a 'germ-a-phobe', so it's mind-blowing to see that God has put this project on his heart, despite his natural tendencies to run from germs and dirty toilets. But he is so passionate about providing safe and hygienic toileting systems to the neighbouring villages here in the Gulf that he is getting stuck right in!
What has God got lined up next?
The next project Scott has just started is getting great traction with Days for Girls. Hopefully in the next few months, a group of sewing ladies in Kapuna will be supported to sew reusable pads for ladies and young girls in the area. Menstrual equality is not a topic I'd ever envisioned Scott speaking about so passionately at home! I'm constantly thanking God for using us as vessels for His Kingdom's goals. They are so much better than our own.
The kids are doing fine – lots of adventures with wildlife lately. Levi had a large frog in his room one night, there was a large spider in our mosquito net and a snake in our neighbour's bedroom. All this builds huge excitement for the boys while their mother shudders and takes photos so their Grandma can shudder too. Scott went on a retreat with the boys from the workshop and had a great time of fellowship learning to make Sago sticks and doing some fishing.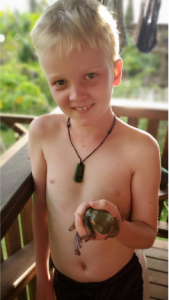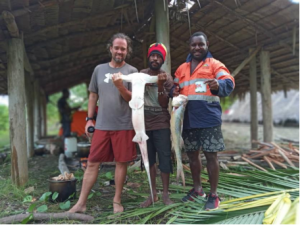 Coming home
We are coming back to Wellington for a few months in June to share with some of our supporters, catch up with our family and friends and rest. We're looking forward to spending time with you all and eating a different variety of food again! We will have a busy schedule but hope to see everyone who wants to catch up.
Blessings,
Nikki, Scott, Isaac, Abby and Levi